*EDIT: 08/02/14"HELLO, I'M BAAAAACK!
So after my excessive, over the top fangirling emotions crawled back into the dusty, mouldy box they belong in, and decided to quieten down once and for all, I can now write a proper review.
The reasons I said *almost* flawless*:
Juliette comes into her element in
Ignite Me
and although the book was more than I expected and
better
than I expected (considering the last-ever-book in a trilogy/series can be either really, really good or really, really bad) it still left me with a lot of questions.
QUESTIONS THAT WILL NEVER BE ANSWEREDWARNING: MAAAAAJOR SPOILERS AHEAD
Finally, Juliette realises what she has to do -- kill Anderson, take over Sector 45 with the help of super sexy Warner and try to change the world.
And she does it. Well, by does it I mean she manages to kill Anderson and take over Sector 45...
and that's where it endsTHE NEVER-WILL-BE-ANSWERED-QUESTIONS
1) WHAT HAPPENS NEXT?
2) DO THEY SUCCEED IN CHANGING THE WORLD?
3) DO JULIETTE AND WARNER STAY TOGETHER FOREVER?
4) WHAT HAPPENS TO THE CIVILIANS AND SOLDIERS OF SECTOR 45?
5) DO THEY DISCOVER MORE SUPERNATURALS ACROSS THE GLOBE?
6) DOES WARNER GET SEXIER? (okay, not a question I would personally ask Mafi, but I wanna know)!)
7) DOES JAMES LEARN MORE ABOUT HIS SUPER WEIRD HEALING THINGYMAJIG?
8) DOES KENJI MEET HIS SOULMATE?
(hahaha, no, I'm his soulmate, 'kay?)
9) DO THE REST OF THE SECTORS STAND UNITED WITH 45 OR DO THEY REBEL?
10) ARE THERE MORE REBELLIONS?
11) WHAAAAAT HAAAAAPPENS NEEEEEEXT?
I refuse to believe that Tahereh Mafi is stupid enough to finish the series without giving us something more, or without answering our questions so I am holding on tight to the idea of maybe a novella or, God forbid, an ACTUAL QUESTION-ANSWERING BOOK being written right this minute.

So, lovers and haters of the SHATTER ME series, let us stand united and beg for something more.


*********************************************************


Oh. My. God. OHMYGOD OHMYGODDDDDDDD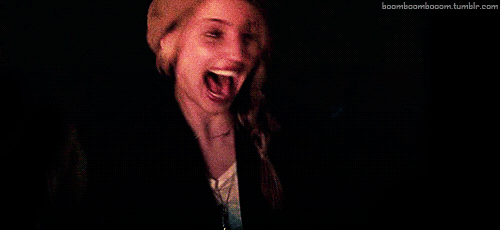 THIS BOOK IS NEARLY FLAWLESS SERIOUSLY.

I loved it. I loved the entire series! But this book? It's P E R F E C T

In Unravel Me, Juliette Ferrars comes to grips with who she and what she is capable of. She makes new alliances and eliminates the relationships that aren't good for her. She grows, she becomes more accustomed to herself, she LEARNS. However, but the end of Unravel Me, Juliette began to quite literally piss me off -- she becomes too self-absorbed with her emotions and feelings and what she wants and what she needs, that I nearly punched her fictional face back to fictionland.

HOWEVER

IGNITE ME is completely different. She mans up. She gets better. She begins to realise that the world doesn't revolve around her and SHE GETS RID OF ADAM. HOW COOL IS THAT? THIS MADE ME SO FREAKING HAPPY BECAUSE HE'S A CLASS-A DICK.

The tone of the book is different from the outset. You can immediately tell she's not the scared little girl from the first book or even the self-obsessed dick from the second book -- she's finally a grown woman, one with priorities and one with a PLAN. AND SHE GETS WITH WARNER. HOW COOL IS THAT? HE'S HOT. GORGEOUS. PERFECT. AHHHHH! *fangirls*

I just, I can't even put into words how fantastic, heart wrenching, emotional, hilarious and PERFECT this book is. It's everything I wanted it to be and more. It was worth the agonising three day wait for the freakin' postman to arrive.

It's a MUST READ

And hey, guys. Kenji?

He's awesome. Well. He's awesome-ER.

How, do you ask?

READ THE DAMN BOOK.

I'll write a better review when I've managed to kick my feelings in the ass, back to the box they belong in.





*EDIT* 3/2/2014:

OHMYGOD IT'S TOMORROW GUYS! TOMORROWWWWWW!

I'm so excited I could cry.






I'M SO FREAKIN' EXCITED. On my calendar and all.